Legendary Shack Shakers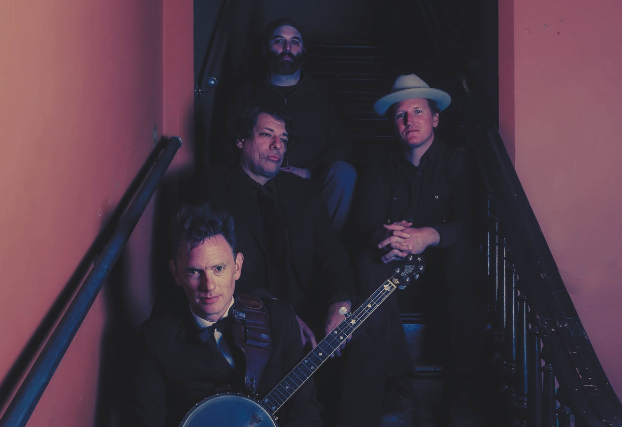 Nearly twenty-five years into their worldwide crusade, Legendary Shack Shakers have become the leaders in the underground music scene's "Southern Gothic" sound. Led by their charismatic front man, Col. JD Wilkes, the band continues to wow crowds with their explosive interpretations of swamp blues, rock n' roll and hillbilly music, making fans, critics, and now, an entire new generation into true believers.

Between intermittent hiatuses to work on other projects (including JD's sideshow banner-style artwork for acts like The Squirrel Nut Zippers and Marty Stuart...plus his two published books The Vine That Ate the South and Barn Dances & Jamborees Across Kentucky), the band is constantly re-inventing and re-mobilizing, much to the excitement of many a Shack Shakers fanatic. Despite Wilkes' extracurricular projects, the Shakers' reputation for intense entertainment endures.

On stage, JD has been compared to the likes of Iggy Pop, David Byrne, and Jerry Lee Lewis. The Nashville Scene named Wilkes "the best frontman in Nashville", while former Dead Kennedys frontman Jello Biafra has called JD "the last great Rock and Roll frontman." Guitar virtuoso, Gary Siperko (Pere Ubu, Rocket from the Tombs, Drivin' and Cryin') intones a variety of styles, from delta blues to gypsy jazz, while the rhythm section rounds out with drummer Preston Corn (The Dirt Daubers) and Fuller Condon (Two Man Gentlemen Band) thumping the upright bass.

With nine critically acclaimed studio albums (and songs that have been featured on television shows such as HBO's True Blood, CBS's The Unit , Swamp Loggers, and movies like Julia Roberts' Duplicity), the band shows no sign of stopping. Past tour mates and fans include Sturgill Simpson, Reverend Horton Heat, Rancid, The Black Keys, Slim Cessna's Auto Club, and Hank Williams III. Robert Plant is also a noted Legendary Shack Shakers fan, and picked the band to open for him on his "Strange Sensation" tour of Europe. Plant named the band's third album Believe as one of his favorite records, and the list of esteemed admirers goes on to include horror novelist Stephen King. King listed "CB Song" as among his iPod's Top Five in an Entertainment Weekly article.

Such a wealth of devoted, cult-like fans has only added to the mystique that the Legendary Shack Shakers possess, carrying them down the road toward new creative pursuits and intense new music and ideas.
Social Links